2002 MCI E4500 - 12 bunk Entertainer Coach
FOR SALE: $165,000.00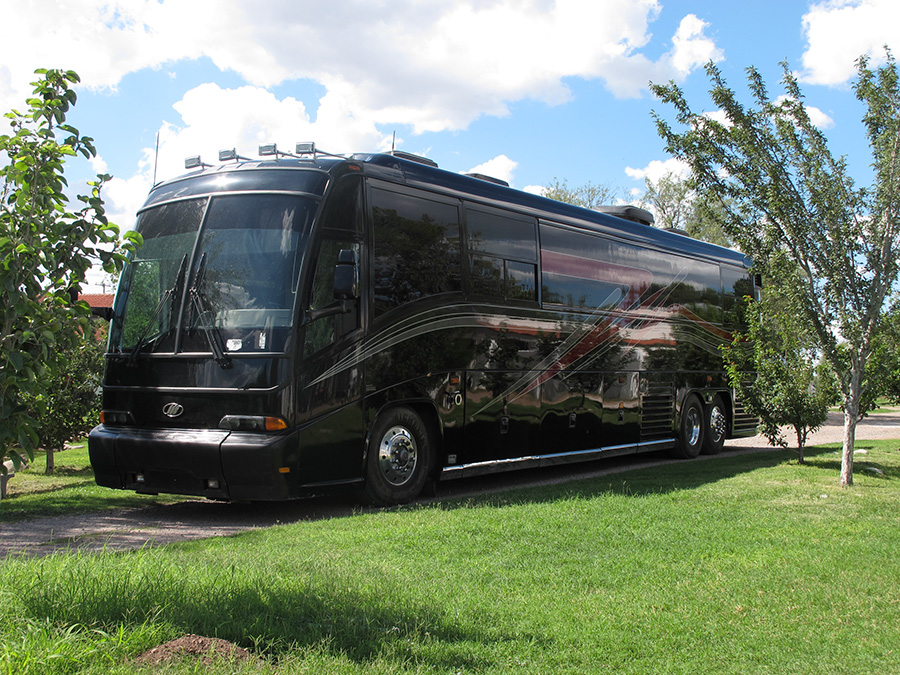 This well maintained, extremely comfortable entertainer coach is ready to roll as a high-end motor home or to take your band on the road! Built to last 3 million miles this excellent vehicle will provide you with reliable and satisfying transportation for years to come and is competitively priced for quick sale.
BUS CONVERSION SYSTEMS AND INTERIOR:

Professionally converted by Star City Coachworks in Nashville, TN for Toby Keith's band. Interior is powered by a Yanmar 21 KW generator, and is equipped with five Penquin A/C units with heat strips. Front lounge has 2 sofas, 2 half booths, complete entertainment center which includes a 32 inch TV, DVD player, tape deck and Yamaha receiver as well as built in icebox/cooler. The galley has 2 under-counter refrigerators, trash compactor, microwave, 5 drawers, and 2 overhead cabinets. The bunk area is equipped with 12 bunks configured in 4 stacks of 3 bunks each. The rear lounge has one 'L' shaped couch and one booth table, complete entertainment center with a 20 inch TV, DVD player, tape deck and a Yamaha receiver. The half bath includes a sink and toilet.
Click on video to watch a short clip of the bus:

SPECIFICATIONS:

Length: 45.67 feet, Width: 102 inches, Height: 141 inches, Wheelbase: 315 inches, Detroit Diesel Series 60 engine mounted in rear of coach with an Allison World Automatic Transmission, Odometer 650,000. VIN #1M8TRPYA11P061554 Bus is located in Tumcácori, Arizona - south of Tucson.

MAINTENANCE:

Recently inspected by Coach Quarters, Nashville, TN. Inspection report, Service records, and conversion wiring diagrams available upon request.
CONTACT:

email Sharu White or call (520) 403-6271 for more information